This was made last year after we ended up having a litter (or two) of baby rabbits.  As they got older, the males and females had to be separated.  So, I had to make a couple more rabbit hutches.  We have managed to home most of them, but still have two left from the last litter.  Look for them at North Star Rabbitry.
This is a slight variation on my custom indoor rabbit hutch.  Instead of using wire shelving, I used 1-inch weld-wire, which is typical for making outdoor rabbit cages.  I'm still working on perfecting the design, however.  There are changes I would like to make, such as not having to staple the wire to the frame.  I'll figure it out.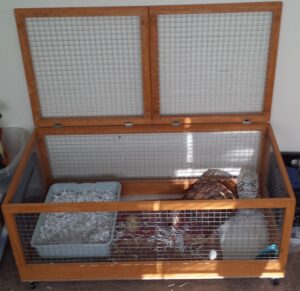 I will try to put up plans for these rabbit hutches soon.
Kevin